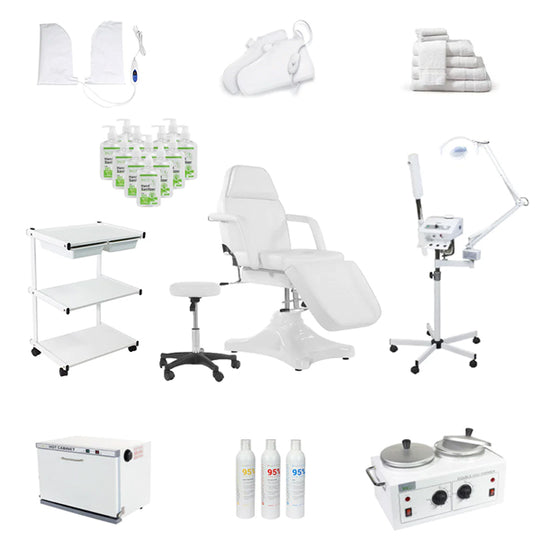 Opening or remodeling a new Spa?
The best way to know what to purchase, how to purchase and why an equipment needs to be purchased rests entirely on what services a beauty salon plans to provide as well as the knowledge on how and what clients need and would want to spend for.
Here are some reasons and tips that make buying new salon equipment a better choice
Latest trends
Hightech treatment modalities prove to elevate the experience for guests, enhance their wellbeing, and improve their service satisfaction. This leads to an increase in spa bookings. Buying the latest may seem difficult, but it will save you money and headaches in the long run. Traditionally, spa treatments were focused on a single particular service, but clients are looking to address multiple concerns in one treatment. High-tech modalities allow spas to provide this versatility.
Less expensive to operate
Buying new equipment is worth the added investment as the functionality and efficiency of newer equipment are more progressive. It also ensures that newer technology can support your needs and will not cost more to operate.
Enhance salon interior
With attractive salon equipment, you are able to improve the interior design of the salon. This will help to get more clients to walk in the door of your salon or spa. It's better to buy bright, shiny, and fully loaded salon equipment with the latest technology.
Warranty
The expenses for used equipment include the cost to overhaul the equipment as well as the availability of parts. On the other hand, you can easily buy quality new salon equipment from us with a warranty. If you find a fault in the product while it's under warranty, we will repair it or replace it free of charge.
Due to the above-mentioned reasons, you can see why it is better to buy new salon equipment rather than used ones.
Support:
It can be hard to know where to begin, or where to go when looking to outfit your new business. Instead of purchasing your equipment one by one, take the time to work with a trusted sales representative and build a package to save time and money! Any time you purchase one of our packages or work with us to build your own salon equipment package, you can be sure you're saving money.
Financing:
Installment payments that fit your lifestyle are the key to planning your growth and ensuring the competitiveness of your business. Ask what financing plans we offer and include it in your business model.
Training:
You must buy a machine and ensure that the provider provides adequate training in its use, although you have the knowledge acquired in school and with the hours of work, the use of any machine requires knowledge of its operation and maintenance. 99% of purchases in a general online shopping portals do not guarantee any type of training and warranty, which could give you headaches when operating it.
TIPS:
When selecting your new spa machines, you should ask yourself a few of the following questions: 
What are the main skin problems of your clients?
You should not focus on a single concern of your clients, the combination of these to be able to acquire the right machine that allows you versatility and guarantee of being able to serve the largest number of clients.
Take, for example, the combination of diamond microdermabrasion, vacuum suction, radiofrequency therapy, and oxygen therapy, simultaneously working together.
Diamond microdermabrasion peels off the dry skin and decreases wrinkle depth. Vacuum suction stimulates lymphatic flow, while radiofrequency heats the skin as dead cells are eliminated. The RF increases blood circulation, stimulates the production of new collagen  fibers,  and tightens the skin. Finally, the oxygen therapy refreshes and revitalizes the epidermis, allowing the skin to breathe and absorb  serums.
Without a doubt, the synergy of treatments treats both the epidermal and dermal layers of the skin all at once, rather than independently focusing on just one.
What treatment do you prefer to add to your services?
Think of which treatment methods you have experience with and feel comfortable performing. Also, consider the amount of education that is necessary to master the equipment and what the total cost will be.
For example, a Galvanic or Ultrasound facial treatment lasts about 30-35 minutes and costs about $50, but a single treatment does not provide visual results.
Meanwhile, Radiofrequency or No Needle Mesotherapy lasts about 20-30 mins and costs $100-150, yet provides instant visual results.
How much would you like to charge for the new treatment?
There is already a stable price range on the market, depending on your location and spa orientation. Regular treatments such as Diamond or Crystal Microdermabrasion are usually $60-$100, while newer treatments like Hydrodermabrasion and Hydroinfusion are about $130- $180.
Also, consider customizing treatments. Instead of offering regular Microcurrent, you may offer "Bio skin tightening", which will include microcurrent lifting for skin tightening, oxygen infusion with hyaluronic serums, and Red LED light for deep natural skin rejuvenation. You can set this at a price like $179, instead of the usual $100 for just microcurrent. How do you like this idea? The best part is that you can customize each treatment for your clients due to the functions your machine(s) has.
What treatments do you already perform that can combine and increase the results of future treatments?
If this is your first time purchasing equipment, the best way to begin is to select a piece of equipment that will provide the most visible and apparent treatment results. Or one that is very high in demand by consumers.
The most visible and effective treatments include Radiofrequency in combination with dermabrasion (either hydro or diamond) or Radiofrequency with Mesotherapy.
As for body treatments, the most visible results can be achieved through a combination of  Pressotherapy Lymphatic Drainage and Vacuum RF Massage.
How much space do you have for a new machine?
If you have a small room, your best option is to purchase a multifunctional compact system that offers multiple treatments in one unit. Tabletop machines are also a great compliment, so that you can place your equipment on trolleys and move them around if needed.
If you have enough space and want to impress your clients with massive, professional-looking equipment, the best choice is a vertical machine with wheels that can be moved around the bed.
How much are you ready to invest and how much do you expect to get from it?
This question is the trickiest because the answer completely depends on how much you would like to earn.
The variety of treatments that can be combined and customized are tremendous due to the numerous functions available.
Of course, these numbers are just sampled to help you understand the power of investing and obtaining returns.
Since salon equipment ranges from low to high priced pieces, you'll need to set a realistic budget. Being thrifty is fun, and buying a styling chair for less than $100 sounds like a score! However, in the long run, buying cheap salon equipment can lead to a lot of problems as those items may need replaced or repaired down the line. Always remember the adage. "You get what you pay for." On the other hand, it would be great to have super high-end furniture, but you may not have the funds when you're starting out. Fortunately, there are plenty of mid-priced options available to help you achieve the same desired look at a great value. Visit our package section to conveniently furnish your entire salon and we can also create a custom package for you. 
Do you know the delivery time?
First, think about when you are going to need your equipment, and how soon are you planning to open your business? Then look for a style matching your salon's atmosphere for the long term. Salon equipment and furniture is a big investment, and to get the style and equipment of your choice give yourself adequate lead time.
Ask about assembly process
Be aware of the equipment's assembly process. Does the item come pre-assembled or does it require putting everything together? Some large stations cannot be shipped assembled while smaller units can usually be shipped completely assembled. Unlimited Corp tries its best to provide salon equipment that is either pre-assembled or requires very little assembly. We have heard many customer nightmare stories about ordering equipment from other online retailers.
Confirm warranty and returns policy
Find out if a warranty is offered and what it includes. Is the company going to be helpful if something should go wrong? How has the company handled your phone calls to this point? Have they been responsive to your needs? Make sure you understand the company's return policy. Ask the customer service representative if you have any questions regarding the policy.