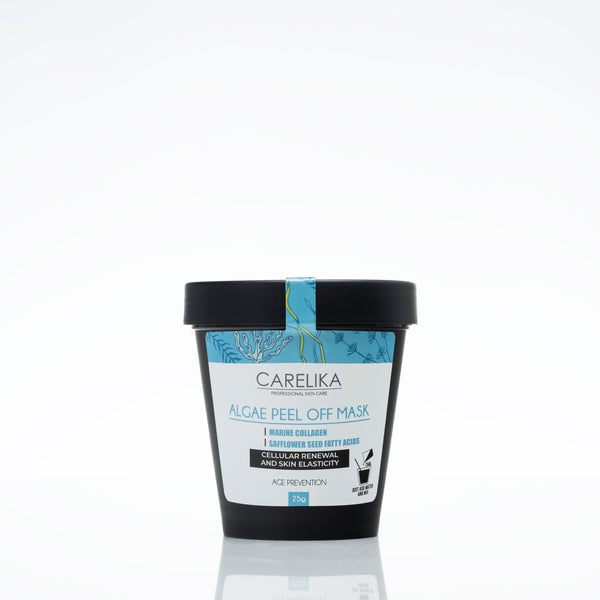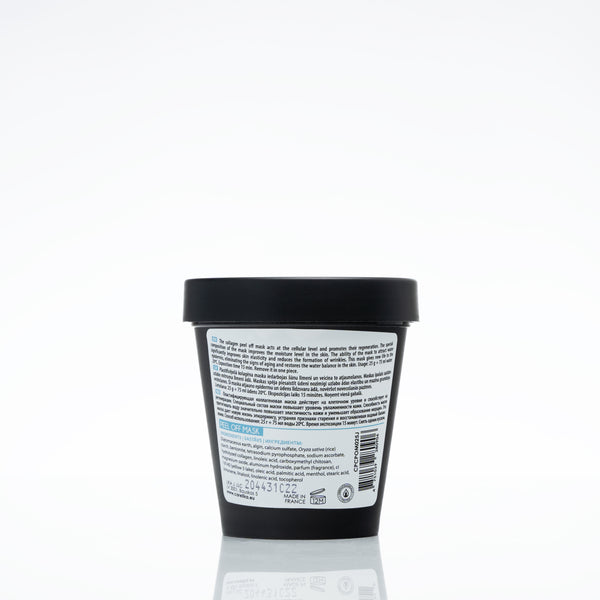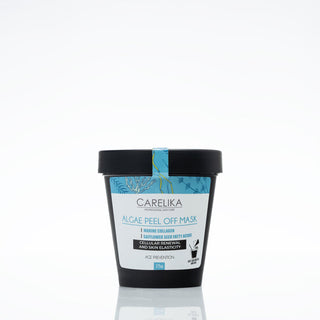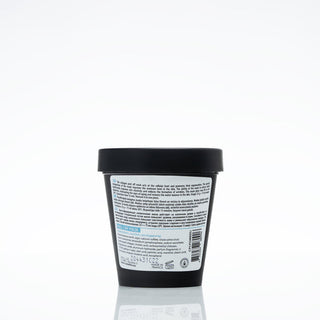 Successful pre-order.Thanks for contacting us!
CARELIKA Algae Peel-Off Mask with Marine Collagen, 25g
What is it?

The CARELIKA Algae Peel-Off Mask with Marine Collagen is a premium mask that combines the goodness of several natural ingredients that work together on your skin to give you a beautiful and radiating complexion. Imbibed in this mask are the benefits of marine collagen that hydrates every cell making the entire layer of skin soft and flexible so that the early ageing signs just disappear. The collagen mimics your skin collagen and infuses elasticity to revitalize your skin.

The safflower seed's fatty acids improve the skin's natural barrier and maintain the sebum balance without making the formulation greasy. The mask is easy to mix into a smooth paste and apply on the face and neck and is even easier to peel off. It moisturizes, softens, and prevents ageing signs from appearing on your face and neck.

Easy to mix with water, the alginate-based mask will never leak while applying and is also easy to remove in one piece!  It's a no-mess mask that you don't have to wash off. Add this marine collagen loaded peel-off mask to your beauty regimen and enjoy bountiful radiance and super soft texture!

What does it do?

Moisturizes and maintains hydration levels.

Controls excess sebum and forms a natural protective barrier.

Provides adequate nourishment.

Boosts collagen in deeper layers and makes the skin elastic

Softens the texture and reduces wrinkles.

Prevents dryness and keeps your skin hydrated and plump.




Diatomaceous earth, algin, calcium sulfate, oryza sativa (rice) starch, bentonite, tetrasodium pyrophosphate, sodium ascorbate, hydrolyzed collagen, linoleic acid, carboxymethyl chitosan, magnesium oxide, aluminum hydroxide, parfum (fragrance), ci 19140 (yellow 5 lake), oleic acid, palmitic acid, menthol, stearic acid, limonene, linalool, linolenic acid, tocopherol




Use this mask as a beauty ritual in the steps suggested below:

Mix 25g of powder with 75 ml of water at 20 ° C in a bowl. Alternatively, you can add 75 ml water directly into the container.
Make a homogeneous paste with intense stirring.
Apply the paste on the face. Leave it for about 20 minutes.
Peel it off in one piece.
Apply your favorite moisture or cream.

 


Marine collagen

It is the most powerful and bioavailable form of collagen peptides that help maintain youthfulness, glow, and elasticity. It contains several essential amino acids that deeply nourish your skin and activate fibroblasts and keratinocytes to make the skin stronger, smoother, and firmer.  Moisturizing and restoring properties of marine collagen reverse the degraded structure of tissue, fill up wrinkles, provides relief from irritation, increase flexibility and thus improve skin regeneration.

Safflower seeds fatty acids

A rich source of omega-6 fatty acids especially linoleic acid, safflower oil works wonders on your face. The fatty acids nourish and moisturise at the same time. Along with oleic and palmitic acids, these fatty acids help restore the natural oils and the lipid barrier of the skin thus giving your skin a chance to regenerate. By maintaining the necessary sebum levels, these fatty acids help reduce the occurrence of blackheads and whiteheads.

 


Alginate

Extracted from brown seaweed, alginate deeply moisturizes the skin. Its antioxidant, anti-inflammatory, and antibacterial actions help reduce inflammation and irritation. Being a rich source of nutrition, alginate nourishes your skin with a refreshing look. Get a supple, fresh, and clear complexion instantly!

 


Rice starch

It is a polysaccharide powder that works like natural collagen. Rich in vitamins E and H, it regenerates dermal cells, boosts blood circulation, and improves metabolism at the cellular level. It also hydrates the skin, shrinks pores, soothes inflammation, and brightens the complexion.