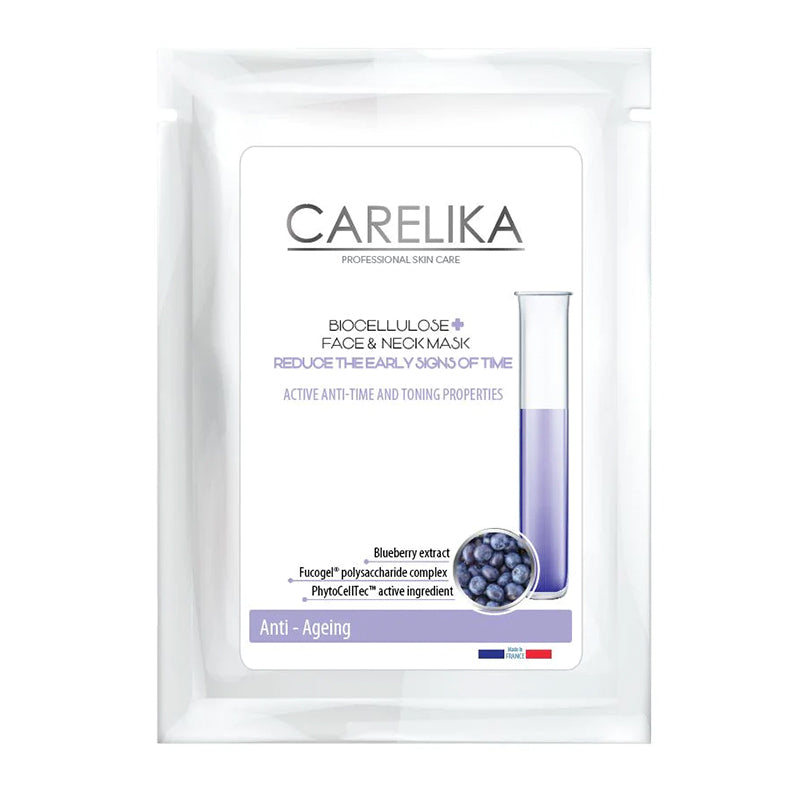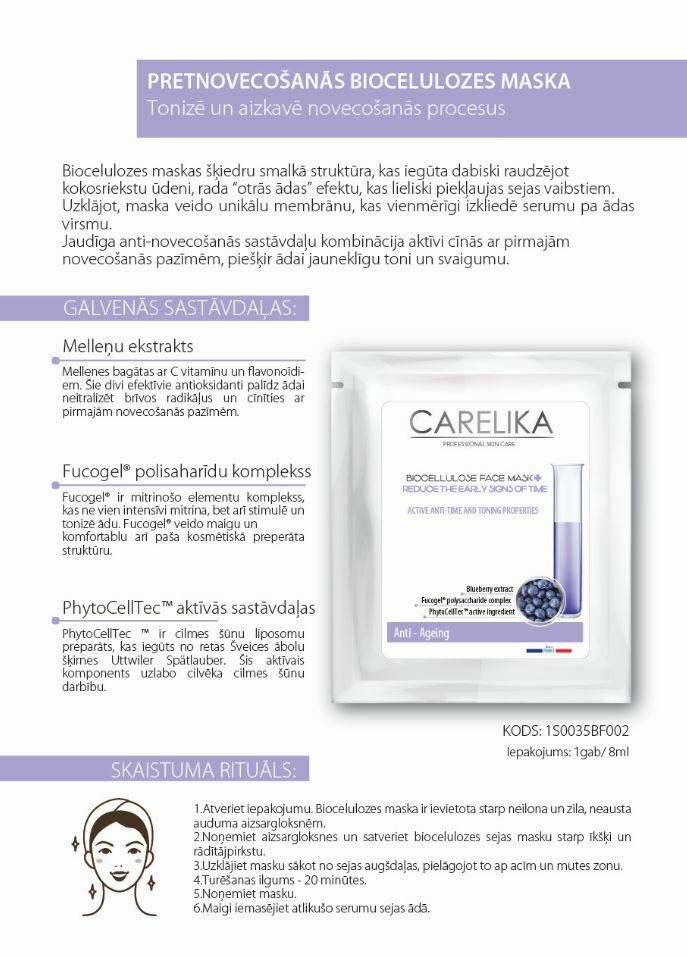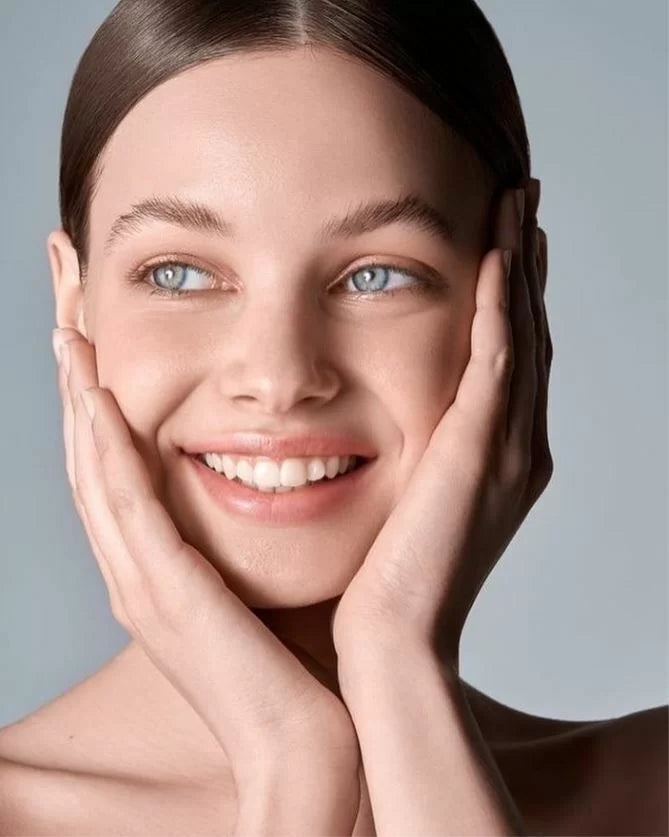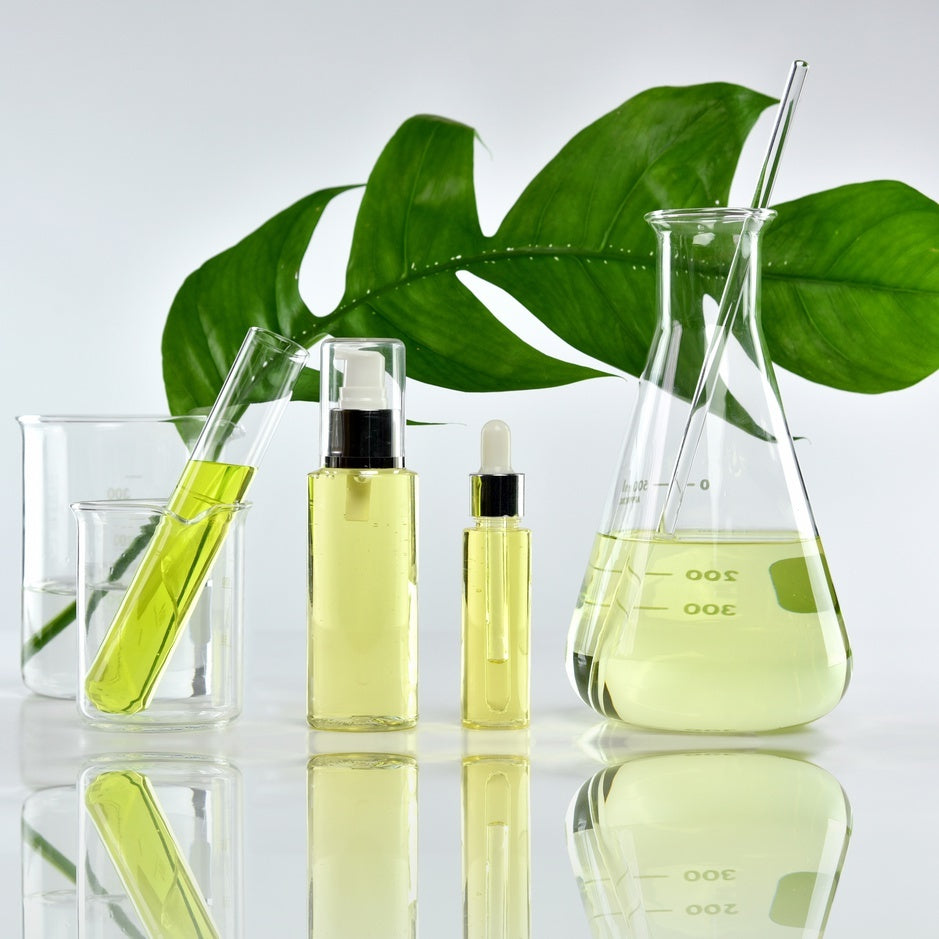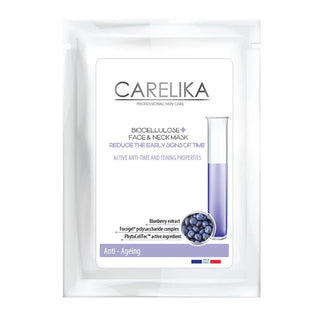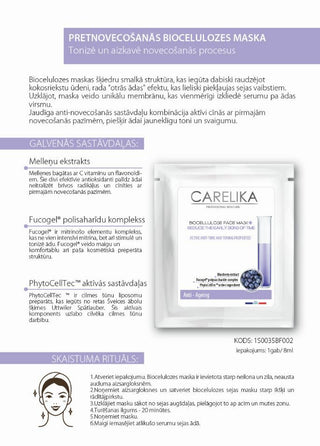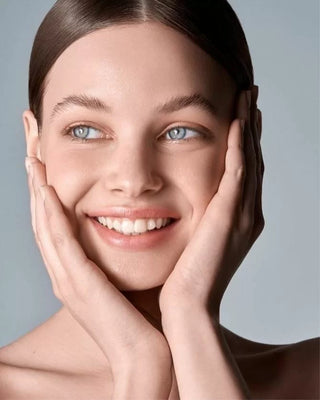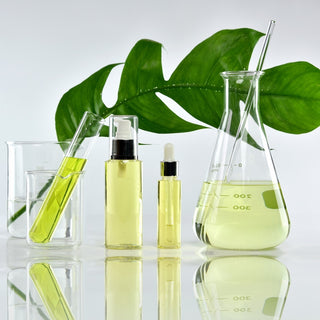 Successful pre-order.Thanks for contacting us!
CARELIKA Anti-ageing biocellulose face and neck mask, 18ml
Mask tones the skin and prevents aging process.

Mask builds unique membrane by applying it to face there for serum of the mask is evenly distributed on the face. Powerful anti - age prevention ingridients fights with first signs of aging, makes the skin youthfull and fresh.


What is Biocellulose face mask?

Nanostructure of biocellulose provides that fibers can hold up to 100 times larger volume than own weight. Biocellulose masks has hight capability of absorbation, that is 10 times bigger than ordinary fabric masks. Mask perfectly adheres to the facial features. Biocellulose fibers are smaller than the smallest facial wrinkle that way provides active ingredient maximal penetration to skin. Masks are resistant to tearing and incredibly elastic due to the nanostructure. If necessary, mask can be removed and applied again to adapt it to facial contour.

Not only biocellulose is the base of the mask. Thanks to especially gentle texture biocellulose provides to skin fresh and surprising comfort feeling.

Biocellulose is nature and skin friendly material.

All biocellulose masks are placed between nylon and blue non – woven fabric protective sheets:

Blue non – woven fabric
Biocellulose
Nylon protective sheet

A beauty ritual for your skin

Package contains one mask for one - time usage that is ready to use.

Open the package. Biocellulose mask is placed between nylon and blue non – woven fabric protective sheets.
Remove protective sheets and grab mask between the thumb and index finger.
Apply the mask from upper face part down to the chin, adjusting it to eye and mouth zone.
Exposure time – 20 minutes.
Remove the mask.
Gently massage excess serum in to the skin.

96% of natural origin ingredients – paraben free, cruelty free.

Main ingredients:

Blueberry extract

 

– rich in vitamin C and flavanoids. Neutralizes free radicals and fights with first signs of aging.
Fucogel® - contains combination of moisturizing element complex and it moisturizes skin effectively, stimulates and tones skin. Fucogel® is responsible for soft and gentle structure of the cosmetic product.

PhytoCellTec™

 

is a liposomal active ingredient based on stem cells from the Uttwiler Spätlauber apple. Its action is based on the key role of skin stem cells on the quality of the skin.

 

Aqua, Glycerin, Phenoxyethanol, Ethylhexylglycerin, Polyacrylate-13, Acrylates/C10-30 Alkyl Acrylate Crosspolymer, Triethanolamine, Propylene Glycol, Vaccinium Myrtillus Fruit Extract, Polyisobutene, Isomalt, Disodium EDTA, Parfum (Fragrance), Biosaccharide Gum-1, Polysorbate 20, Sorbitan Isostearate, PVP, Malus Domestica Fruit Cell Culture Extract, Linalool, Sodium Benzoate, Lactic Acid.